Setting up your office whether at work or at home requires maximum use of space. It is why the L-shaped desk has become even more popular. By fitting into the corner of the room or standing alone and providing extra space on top, this version of the standard desk maximizes the space you need to hold your items. It is why having the best L shaped desk is so important to get what you need to accomplish.
What follows are some of L shaped desks that have garnered considerable attention for their quality, use of space, and solid construction. If you are looking to add an L shaped desk, this is a good place to start.
Here are the Best L Shaped Desk Furniture
1. Cabot L-Shaped Computer Desk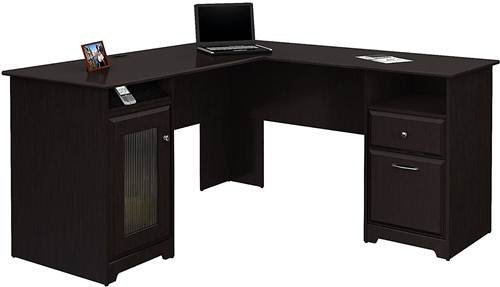 Solid, well-constructed, and durable, this L shaped desk by Bush Furniture may be the quintessential example of a wooden desk in this unique shape.
Features
Workspace: 60"W x 24"D on Left Side, 20"D on Right Side
Integrated Four-Port USB Hub
Concealed Storage Cabinet
Box Drawer and Open Storage Cubby
One Year Manufacturer Warranty
Advantages
There are several advantages to this desk design, starting with hits use of engineered wood which makes it more durable while requiring fewer trees to make. But there are other advantages as well.
Ergonomic Design: From one position, you can reach almost all the workspace on the desk without moving. This makes it easier to keep what you need close and get more done in less time.
USB Hub: This helps connect your devices while keeping the wires to a minimum. An excellent addition to the desk, it represents proper organization and convenience.
Disadvantages
If there is a disadvantage, it is putting the desk together. While not all that difficult, it is a little heavy which may make it taxing for those who are not used to putting together items of this size. But that is a minor consideration.
Verdict
Solid, durable, and attractive, this L shaped desk offers considerable versatility and value for its price. It may be a big pricey compared to similarly priced models, but the overall construction and quality make this one a winner.
2. Cabot L-Shaped Desk with Hutch
If you are looking for a complete office setup that includes shelves for books and other material, then this entry by Bush Furniture may be for you. It is quite similar to the previously mentioned version, but comes complete with a hutch.
Features
Desk Dimensions: 59" x 59" x 66"H
Hutch Included
Material: Wood
Integrated Four-Port USB Hub
Concealed Storage Cabinet
Fluted Glass Door
Advantages
High Quality Wood: Given the size of the desk and hutch, the wood material is both solid and well-protected. This means that it resists warping and cracking to last for a long time under normal use conditions. The chrome-finished hardware also bolsters the desk design and durability.
Space: No doubt the hutch complete with concealed storage cabinet provides more room for your items. Designed to be easy to reach, you can use the additional space to keep what you want nearby. Plus, the file drawer holds up to 30 pounds of material with ease.
Reversable: The hutch can mount to either side of the desk for maximum versatility. This means that you can place it where needed for its best use.
Disadvantages
This will depend if you need a hutch to store extra items or not. For many, a hutch is not a needed item, so it becomes extraneous to the needs of the customer and not worth the extra money. But if you need a hutch to store extra items, then it becomes a stronger consideration.
Another issue is that once you put the desk and hutch together, it will take some effort to get them apart. This is desirable when you are staying in one place, but if you need to disassemble it for a move, then it becomes more problematic.
Verdict
Solid, clean design with beautiful wood features, the Bush Furniture Cabot L-Shaped Desk with hutch is a good buy even at the higher price. But it will depend on if you need the hutch or not. If space is a consideration and you are not planning on moving anytime soon, then this can be an exceptional buy.
3. L-Shaped Corner Desk Home Office Workstation
This clean, functional desk offers a considerable number of features for a relatively low price. For those who want something sturdy, dependable, and affordable, this desk by CubiCubi is worthy of consideration.
Features
Work Space: 67" x 43.7" x 29.5"
Iron Pipe Construction
Hook & Small Table
Storage Drawer
Money Back Guarantee
Advantages
This is a multi-function desk designed for office work, gaming, and other needs. Its unique, rustic design features an interesting cut-corner that makes it a great accessory for your home. Some of its advantages include the following.
Sturdy: The iron pipe foundation and particle board top make it quite strong and able to hold up to years of normal use. Despite the use of metal and wood, the desk itself is normal in weight for easier set-up.
Small Table: This little table lets you place a computer monitor with room underneath for storage. It's a nifty touch that makes best use of the space being offered.
Disadvantages
There are no real disadvantages once you consider the price point. At under $150, this desk is really a steal considering its sturdiness.
Verdict
For the price, this is one tough L shaped desk to beat. It has all the features needed to run an efficient office setting. Yet the price is affordable and the style quite modern and sleek.
Finding the best L shaped desk starts with your needs. By identifying what you need in terms of the right desk, you can choose from the many available with greater confidence. The three L shaped desks presented here offer an excellent starting point on your search for the right desk for what you need both today and if you should expand your needs tomorrow.