A professional or commercial stock pot can be used in many ways, such as restaurants, catering, taverns, outdoor or house parties, and more. Cooking food in a stockpot is a lot of fun. Many people like it because you are free to cook the way you want, and the best commercial stock pot can easily help you prepare crabs, lobsters, pasta, chili, soup, stews, broth just about any food you want without a problem. That helps a lot because it gives you more support and the results on their own are very interesting every time.
The 5 Best Commercial Stock Pots
*Ratings may change*


Since you keep the best commercial stock pot on a stove, that means it can be rather large, and it's a good thing. You are not limited to cook only certain options, instead it broadens up the spectrum to help you cook and enjoy more food the way you want. Which is great, as that's what you really need and what you expect in this situation.
Finding a commercial stock pot is not a challenge like a commercial waffle maker but the biggest challenge is making sure it will serve you right or ideal to meet your needs. A lot of things you need to keep in mind such as starting to rust, may take a long time to warm up, the quality of the handle, lid, materials and many more.
Whether you're a new or returning customer, someone who cooks regularly or occasionally, whether it's a big family party or an outdoor gathering – the commercial stockpot is available in a variety of sizes and colors, versatile options & convenient to meet your needs.
Buyer's Guide to Pick the Best Commercial Stockpot Units
How can you select the right stock pot? That's actually a lot harder than you imagine. And the reasons vary, but for the most part the tricky thing comes from the product itself, it can be very daunting to pick the best commercial stock pot that suits your needs without knowing the type of features that can arise.
The best commercial stock pot size is crucial. You want to make sure that the size is large enough to fit all the food that you want. Since this is for commercial use, you do want it to be large so you can prepare as much food as you can. It certainly delivers the value that you want and the experience itself will be great because of that.
Materials are crucial too. Stainless steel is durable and it has good heat retention, however it heats up slow and the heat conductivity is not the best. Aluminum has good conductivity, but it's soft and not durable and it reacts with acidic liquids which means it can discolor at times. That's great because it delivers a very good value and experience, and the results themselves are very good.
Structure-wise, you want the unit to be thick and with a heavy bottom so it can prevent the burning process. On top of that, heat transmission is crucial as you will end up with.
Heaviness matters too. A lot of people will focus on a lighter unit for the best commercial stock pot. The reason is simple, you want to avoid heaviness because a lighter pot is easier to maneuver. That also means you have to rely on aluminum most likely, so you can have a lack of durability as a downside.
Handles are important too. These offer security and a very good value, so the best thing you can do is to take good care of the handles just to be safe. It will help a lot. Especially if you cook with lots of liquids.
In this post, we have analyzed dozens of commercial stock pots that are now available on the market to discuss the top 10 best commercial and professional stock pots to make the purchase decision easier.
Here are the Best Stock Pot Brands for Commercial Use
What we like the most about the Stainless D5 11.4L (12QT) Stock Pot with Lid is that it's designed to be small yet very convenient. What makes it the best commercial stock pot is the fact that it's versatile, dependable and it always brings in front a very good experience.
The fact that it has a brushed exterior does make it very dependable and durable. And to make things even better, it works great with most heat sources and it comes with an engraved capacity marking at the bottom of the pan. It definitely helps a lot and the ROI itself can be among some of the best no matter the situation.
Plus, it has oversized handles to help protect you in case there are any issues. It's also a dishwasher safe unit, which we found to be very impressive and professional at the same time. Since it has a very long and riveted stick handle, it will stay cool while also offering you the stability and value that you would need from a product like this. The rolled lip for easy pouring is also a great touch. Thankfully it also works great since it's stainless steel and it will not have any damaging reactions to food.
Pros
Very dependable and durable
A pleasure to use, oversized handles
Rolled lip for easy pouring
Cons
Rather small, could be large
Limited features
The Cooks Standard 02616 Professional Grade Lid Stainless Steel 30 Quart Stockpot, Silver color is one of the most dependable and reliable stockpot units that you can find on the market. It's designed to be very versatile, professional but also dependable and just a pleasure to use every time.
The product itself will offer you all the tools you need in order to stay healthy and eliminate any issues. The aluminum disc capsuled bottom has a very good temperature distribution and you can stay away from hot spots. Not only that, but the lid helps create and maintain a seal, that will make it very good for carrying the unit anywhere you want to go.
We like the fact that it's made out of stainless steel and adding in some aluminum does make things a bit better. You really have the control you want and the results themselves are very interesting and exciting at the same time. They did a stellar job with the overall approach and the product itself delivers on the value and quality that you want. Overall, it's incredible for what it is and you may want to give it a try and test it out for yourself as it's well worth the investment.
Pros
Made from brushed stainless steel
Works on just about any cooking platform
Dishwasher safe
Simple design
Cons
Some customers experienced rusty spots
It can leak if you don't use it adequately
The HOMICHEF Commercial Grade LARGE STOCK POT does a stellar job at offering you a great combination of materials. The construction base for this one is made out of 2 external layers of stainless steel. And they added an aluminum core in order to spread the heat a lot easier and at your own convenience. They also made sure that the product is nickel free, so you won't have to worry about any harmful elements to deal with here, which is really nice to have.
They also worked very hard to bring in that immense visual appeal and impressive quality. To make things even better, they also have a mirror polished exterior and the tempered glass lid comes with a steam vent. That's definitely rewarding and the results themselves are very impressive all the time.
All you have to do is to give it a try for yourself and you will find it to work incredibly well. Overall, it's a very good if not one of the best commercial stock pot options out there. The inner height is 10.8 and the inner diameter is 10.6 inches of this pot.
Pros
Nickel free
3 ply construction in the base
Very good customer service
Cons
Not that large
Some people experienced signs of oxidation
This is one of the best commercial stock pot products just because it's super large and it helps you with the commercial features. That's definitely a rewarding factor since it brings in some immense features and the benefits themselves are rewarding all the time. We like the fact that it's fully made out of stainless steel. That makes the unit a lot more durable when compared to the other ones that you can find on the market.
It's also fully polished inside and out, which is a major plus all the time. The heavy duty construction assures you that it will last for quite some time and you have the control and features you need. Of course there are tricky moments to deal with, but this certainly conveys the value and quality you want while also eliminating challenges naturally and at your own pace.
Pros
Made from high-grade stainless steel for lifetime lasting
Fully polished
Handles riveted onto the pot
Cons
Some people noticed oxidation
It can be broken if you try to boil some foods like crawfish
As you can see from its name, the Update International 40 Qt stands out since it delivers a very large cooking quantity for you to check out. The experience itself will be second to none and you will appreciate the tremendous value and quality that you want. The 40 qt capacity is very good in the commercial world and it does bring in front all the benefits and value that you would need. The product is NSF listed and it also has a very good stainless steel finish.
You can easily combine this with a variety of other products to create a stellar and immersive cooking experience. It's particularly good with induction cookers, but you can literally use it on any type of cooking platform and it will perform very well. It's important to note that it has a cover and you will appreciate the tremendous value and quality being brought to the table in a powerful and meaningful manner all the time. Just give it a try for yourself and it will totally be worth it.
Pros
40 qt capacity
Great for induction cookers
NSF listed
Stainless steel finish
Cons
The rim of the pot is not very durable
Came dented for some people
The New Professional Commercial Grade 40 QT is a very impressive unit that offers you all the cooking features and benefits you need in a single package. It's designed to bring you the support and quality you need, all while making the experience as creative and as immersive as possible.
The heavy duty 3-ply bottom can really make quite the difference, and you will appreciate the immersive experience and the stunning value all the time. It's a commercial grade product with a very good brushed interior and exterior. It will totally offer you the benefits and quality that you may need, so you should totally check it out and you will like the results.
Pros
Very easy to use, great handles
It's offering a heavy gauge, stainless steel approach
Induction ready
NSF certified
Cons
It can discolor rather quickly
Not the most durable
Thunder Group does a very good job with this unit because it really is a commercial-grade product and one that you will like a lot just because it's so different and unique. The unit has a very thick bottom that makes it easy to sustain a lot of pressure while cooking. The NSF certification also shows the great value and impressive results you can obtain from the unit itself.
It delivers stellar attention to detail when it comes to its looks and the features that it can bring to the table as well. People love this because it's a really durable product and you will cherish its quality and value. It also resists bending, which is something a lot of people will want to try and test out the best way that you can.
Pros
Simple design and easy to use
Chrome coloring makes it very appealing
Durable and reliable
Cons
Boling takes a bit too much
Grooving issues for some customers
Not all the best commercial stock pot options have to be very large. Smaller units are still needed for things like precision cooking. And this falls exactly into that category. It definitely delivers on the promise and it brings in front a very impressive set of results that you will like for quite some time. The experience is rewarding and you will appreciate the best value and uniqueness of the entire process. It totally works and it will give you all the benefits that you may need without making things overly expensive.
In addition, the interior of this unit is not reactive and you can measure the amount of food you put in there, which really makes a huge difference when you are cooking food to begin with. They made things even better by having ergonomic handles since you do need all of that and they will offer you a really good set of results every time because of that. The quality is always impressive and you will like the way everything works, so use that to your own advantage and it will be well worth the effort.
Pros
Dishwasher safe
Suitable for work on cooktops as well as gas, ceramic and electric
Non reactive stainless steel interior
Ergonomic handles
The lid fits like a glove
Cons
Can get a bit of getting used to
Pretty small for commercial use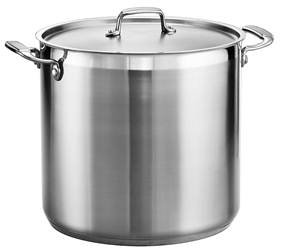 When you really want to bring in a great stock pot to the table, give the Tramontina 80120/002DS Gourmet Stainless Steel Covered Stock Pot, 20-Quart a shot. This might be the best commercial stock pot out there just because it's so rewarding, different and full of features you need. It works great even if you have an induction cooktop, which is a good thing. The unit is dishwasher safe too, and it will offer you the premium feel you want from such a product.
Like many other products in this list, this one is also NSF certified and it delivers a great lifetime warranty. That really sets the tone and it brings in front the unique results you really need from such an item. Just consider checking it out if you want the most dependable, best commercial stock pot on the market.
Pros
Versatile, very professional
Lifetime warranty
Suitable even for induction cooktops
Precision cast riveted stainless steel handles
Cons
It won't be great for high temperatures
The interior finish can be a bit better.
The Winware SST-40 Stock Pot with cover is one of those products that many people use for cooking just because it's so convenient and versatile. It certainly delivers the quality that you want while also pushing the boundaries and giving you great food that you can enjoy.
The product is not super heavy, and it does come with the interesting double bottom approach that a lot of commercial cooks will love. It can be the best commercial stock pot if you cook a lot of food and want to prepare it evenly. That makes it more convenient than ever and you will cherish and use it without any hassle. It's certainly a lot more different than before and you will like the distinctiveness of this approach more than you would imagine.
The natural finish and the highly polished interior and exterior clearly show that you are going to receive an astounding result and the experience itself will be among some of the best. It's a great opportunity and the outcome on its own can be incredibly rewarding. That's what makes this product good, the fact that it will give you the induction ready features and capabilities which are needed at times. No one has experienced black spots inside after boiling the water several times or several years.
Pros
Double bottom feature
Pretty large and great for cooking
NSF certified
Thick stainless steel
Induction ready
Cons
It can be a bit hard to maneuver at times
No volume markings
Comparison Table of the Top 10 Best Commercial Stock Pots
***price may change**


FAQs
1. How much should you spend on the best commercial stock pot?
That depends on where you live, there are models that cost $60 or less, but also units that deliver a very good quality and durability at $200 or even more. You need to prepare your budget accordingly, and based on that you will be able to obtain the utmost experience and the best results all the time.
2. Are there specialized commercial stock pots?
Yes, you will find some made out of enamel, there are non stick units, hard anodized units, budget units, suitable for multitasking and for gourmet chefs. Having more specialized commercial stock pots is great because it offers you more control over the process and the experience becomes a much better one.
3. Should you go for aluminum or stainless steel?
Considering you want such a unit for commercial use, stainless steel is a much better option as it offers you the best results. It makes a lot of sense to choose that over aluminum because you want the unit to be durable. Granted, it has its downsides like a lack of conductivity, but the increased durability is one of the things that really push the boundaries.
4. What size is ideal?
That depends on the kitchen size and how much you usually cook. More often than not we realized that 12 QT units are very good. But there are people that go with 60 QT in case they want to cook a lot of food. In the case of commercial stuff like this, the more you get, the better it will be. Take that into consideration and you will find results to be second to none all the time thanks to that.
5. Do you need more than one commercial stock pot?
Ideally, when you want to try and find the best commercial stockpot, you won't get it alone. You need more than one, and that's the thing to keep in mind. It will help a lot to take that into account and the results themselves are among some of the best every time.
Conclusion
There are many challenges that come from finding a good commercial stockpot. All you have to do is to find the right model to suit your needs. These ones presented here are amazing, they are giving you a tremendous quality and value, and the results themselves can be some of the best out there. All you have to do is to check every model, their features and see what works for you!
You may like the best commercial kitchen faucet reviews choose one of the best faucets available on Amazon for yourself to reduce the load on your kitchen.