When it comes to making waffles, a commercial-grade machine is going to produce the best results. In this post, I have compiled a list of the best commercial waffle maker that is currently available online with waffle making recipes.
But, just because a machine is expensive does not make it the best. When choosing a new waffle maker, these are a few of the best commercial waffle makers to consider for efficient investment.
Before moving on to the reviews, you must consider a few things for the right waffle maker. The market is full of different styles and features. That means buying the right one is not a fact of getting the inexpensive one.
The 5 Best Commercial Waffle Makers
*Ratings may change*


If you own a restaurant that serves the breakfast buffet or if you want to treat your family members with golden brown waffles, there is no alternative option without having a commercial waffle maker. A crispy waffle made from finely kneaded dough. In that case, the dough mixer can help you to get the delicious waffle in a time-saving manner. Look at the best commercial dough mixers reviews for the best selection.
What Types of Waffle Makers Are Available Out There?
Currently, the market is loaded with various types, such as:
1. Belgian Waffle Maker
2. Heart Waffle Maker
3. Classic Round Waffle Maker
4. Square Waffle Maker
5. Ceramic Waffle Maker
6. Mini Waffle Iron
7. 4-Slice Waffle Iron
8. Waffle Bowl Irons
9. Vertical Waffle Irons
10. Pancake Irons
11. Character Waffle Irons
12. Stovetop Waffle Irons
13. Flip Waffle Maker
14. Removable Plate Waffle Iron and many more
What Features Are Important?
This is to confirm that there are plenty of waffle makers available with infinite features. Well, that really depends on your individual choice.
1. Waffle Shape
2. Waffle Maker Size
3. Thickness
4. Indicator Lights
5. Storage Space
6. Color
7. Cook Setting
8. Cleaning etc.
A waffle maker will help you to enjoy more than breakfast treats, after-school snacks, dinner, or dessert. VBENLEM 110V round shape commercial grade waffle maker is one of the best for heavy use. It is made of stainless steel that is robust in quality and easy to clean. The 180° rotatable design offers comfortable cooking and the best efficiency.
It contains non-stick Teflon coating pans that provide double heating for round waffles. The machine weighs approximately 11 kg, and the LED indicates a heating warning with a musical alarm to control both time and temperature. Besides, the anti-burning plastic handle gives you the ease of use and a secure gripe.
In the past, the waffle maker was heavy, unreliable, and challenging to clean, but for the time being, it's perfect in size and shape for making delicious waffles after waffles with ease. Here you go for the top 10 best waffle makers for your business and household needs.
Here are the Best Commercial Waffle Maker Brands
1. Chef'sChoice 854 Waffle Maker
A four plate grid creates golden, crisp waffles with every use. It only takes two minutes or less to prepare your waffles and features a double side plate grill, so no need to flip each side during preparation. Some of the good features include the quick preparation time and ease of clean up. You can simply put the plates in the dishwasher for cleaning. It has a cord storage area for easy storage when not in use.
Some of the drawbacks to consider include:
It takes as long to heat up (about 3 minutes) than it does to make the waffles.
The grid plates are a bit smaller than other commercial machines.
You also receive a warranty, but it only covers one year on the commercial waffle maker you receive.
2. Belgian Waffle Maker by All-Clad
The ahead heating technology of the waffle maker guarantees even cooking and browning, while it's steam release system prevents the accumulation of condensation, which means that the waffles are baked to perfection: delicately crispy on the outside and light and fluffy inside. The cakes come out looking gourmet restaurant quality.
Key Features:
Available in 2 Style – 2 Square and 4 Square
Takes 2-3 minutes per waffle and 2 square waffles at a time
Overflow container is removable for easily cleaned
Free of all dangerous chemicals
No spills and easy to clean up
3. Commercial WW200 Waffle Maker By Waring
This heavy duty waffle maker provides a great base for those who are looking for a commercial grade machine. It features a simple swivel twist design for you to flip the batter during preparation, and the removable plates make clean up a cinch.
Good –
It heats in under two minutes and waffles are cooked evenly throughout. It features heating element controls for ease of temperature change/display, so you always know what temperature is set when preparing waffles. You can make a single waffle at a time but you should maintain the temperature to avoid harm.
Bad –
It is a double waffle maker, so you can only prepare two waffles at a time in comparison to 4 with other commercial machines. It also has LED indicator lights but requires you to flip both sides to prepare your waffles, meaning longer cook times than other commercial grade machines.
4. Double Belgian Waffle Maker WMK600 By Waring
With the non-stick surface, your waffles won't get stuck or overcooked on this waffle maker. It features 110 Volt capacity, double-side Belgian waffle grid patterns. The heavy-duty machine will create consistent texture and taste with every use.
Good – Some of the pros of this machine include:
A sturdy design and consistency with each use.
Rotary feature for easy browning. It has 2 LED indicator lights with 3 audio beep tones.
Temperature control heating plates, giving you complete control of the machine. – You don't have to make two at a time, but both sides will heat up.
Some of the bad features or cons to consider include the removable grid plates tend to overheat, requiring plenty of cool time after use. The waffle maker has indicator lights (LED lights) but does not have an indicator bell/noise when waffles are finished. It is also quite pricey in comparison to other waffle makers.
5. 834 PizzellePro Toscano Nonstick Pizzelle Maker by Chef'sChoice
With a new stylish design and an exclusive floating top plate, the 834 PizzellePro is our most modern waffle machine. In less than 30 seconds you will effortlessly make the most delicious wafers in the world.
Key Features:
Bakes 2 pizzelle in less than 30 seconds
Baking surface is non-stick speedy temperature recovery
Best for making cannoli's
Easy to clean and recipe included
6. Hanchen Instrument waffle maker
Good –
Some of the features owners will appreciate include: the fact that you can prepare 3 to 8 waffles at once with double plate size. It also has a 110 and 220 V option, and durable stainless steel exterior isn't prone to damage or destruction. It features interchangeable waffle grids, so you can prepare more or fewer waffles at a time on the rectangular base.
Bad –
The removable plates do heat very quickly so it will take some time if you plan on removing/replacing the plates in between prep times. Waffles cook easily but the open grid can be dangerous if you have kids around and doesn't auto shut off like other similar machines.
If you are looking for quick cook times, this is a great option. Some of the features it offers include prep times under 2 minutes and even heat distribution. It can also prepare 4 waffles at a time and runs on electronic controls, so you are fully aware of the exact settings on the waffle maker.
Bad –
One of the bad features of these commercial waffle makers is the small grid size; it also takes up to 3 minutes to fully heat, and the waffle size is far smaller than other commercial machines. It only includes a 1-year warranty, although it is quite expensive in the marketplace.
8. Smart 4-Slice Waffle Maker by Breville
This commercial waffle maker has a stainless steel cast body and aluminum plates for even cooking. With temperatures up to 475 F, it will crisp the outside without burning the interior of your waffles. Some of the good features include the fact that you can prepare up to 4 waffles at once, and even cooking times. There is no need to flip as waffles cook on both sides at the same time with heating elements on top and bottom.
Bad –
The waffle maker is an 1800 W machine, so it won't fit all outlets, especially in home/residential kitchens. It also has a small grid size which is much smaller than other commercial waffle makers of this capacity.
9. Changlong Instrument Waffle Maker
Baking 4 waffles at once, it offers even heat distribution on top and bottom, and even cooking temperatures throughout. The heating grids are non-stick so waffles will cook evenly and won't burn when you lose track of time.
Bad –
It takes 3 to 5 minutes to prepare, which is longer than most commercial machines. The grid plates are smaller as well and aluminum plates don't offer even heat distribution as is the case with non-stick grids.
The high-end press makes up to 40 waffles per hour making it ideal for busy restaurants serving breakfast. Heating lights and adjustable thermostats give you full control of prep times, and independent heat zones allow you to work on different grids at different temperatures.
Bad –
The machine is compact, so it only allows for one user at a time. It also features a close/lock lid, so once it is shut, you can't open/adjust cook times when making waffles.
See also:
Delicious Waffle Recipes or Waffle Dessert Ideas
Here are the 2 waffle iron recipes described. Another 6 best waffle iron recipes at your fingertips. Try out these recipes for the best serve.
#1. Banana Walnut Waffle Recipe
Banana waffles are a delicious waffle recipe that can be enjoyed at any time of the day. The banana and walnut waffle recipe offers a sweet and nutty blend. It is a preferred dish for children. Since it provides excellent nutritional value in the combo of banana and nuts, so, enjoy your breakfast time with the delicious recipe for banana and walnut waffles.
Ingredients:
Regular Flour – 1 1/3 cups
Baking soda – 3 teaspoons
Brown sugar – 2/3 cup
Salt – 1/2 teaspoon
Eggs – 3
Vanilla extract – 1 teaspoon
Milk – 1 1/3 cup
Melted butter – 1 cup
Baking powder – 2 teaspoons
Butter – 1/3 cup
Chopped walnuts – 1 cup
Fresh Bananas – 4-5 pcs
White sugar – 2 teaspoons
Procedure:
The primary thing to do is to take a bowl and mix the sifted flour, baking powder, brown sugar, salt, and baking soda properly.
Then put the chopped walnuts and keep them aside.
Take a small bowl and add vanilla extract, melted butter, eggs, and milk and whisk it correctly.
After that, mix well the dry and wet ingredients and form a smooth paste without lumps.
Once the waffle dough is ready, preheat & oil the waffle maker according to the instructions in the manual.
Now put the waffle dough in the hot waffle baking machine and bake until crisp.
When it is well cooked, place it on the plate and serve it hot with white sugar, butter, maple syrup and slices of banana on top.
#2. Whole Grain Waffles Recipe
The plan of making delicious waffles usually is the quality of the ingredients you use to make it. If you think to make healthy whole grain waffles, try using quality ingredients such as freshly ground whole wheat flour, extracted canola oil, fresh milk, raw eggs, sea salt, chopped blueberries & fresh pecans. All of these natural, fresh ingredients provide you with healthy whole grain waffles, particularly at breakfast. So, let's know the initial steps needed to make the whole grain waffle recipe.
Main Ingredients:
Rolled oats – 2/3 cups
Buttermilk – 2 cups
Baking soda – ½ tsp
Regular flour – ¾
Whole-wheat flour – 1/3 cup
Baking powder – 2 tsp
Freshly ground cinnamon – 1 tsp
Vanilla extract – 1 tsp
Salt to taste
Canola oil – 1 tsp
Brown sugar – ¼ cup
Large gently beaten egg white – 1
Large slightly beaten egg – 1
Finely minced pecans – ¼ cup
Process:
Take a small bowl and mix well the oatmeal and buttermilk. Keep it aside for 20 minutes.
Then, preheat and lightly grease the waffle maker with oil.
After that take one more bowl and add baking soda, whole wheat, cinnamon, baking powder, and salt into it and mix it properly. Later on, add the pecans into the mixture and stir well.
Then, put brown sugar, beaten egg, vanilla, oil, and egg white in the oatmeal mixture and mix well.
Now mix all the dry and moist ingredients to form a soft dough.
Then, pour this mixture into the hot waffle maker and bake for 7 minutes until it becomes crisp and light brown.
Serve these hot waffles with fresh fruit toppings.
A 110 V capacity allows you to plug in and use in nearly any kitchen. A non-stick surface allows for even removal and your waffles won't get stuck onto the grid even at high temperatures. There are an adjustable thermostat and heating element, so you know exact prep times and heating time.
Bad –
The generic option doesn't offer a warranty, so you aren't covered if the heating element burns out or if other issues arise. It does have a smaller grid plate so heats quickly, but you can only make 2 waffles, versus 4 at a time.
INTBUYING Double Station Ice Cream Cone Waffle Maker with Dual Baker
INTBUYING is good for its quality materials and exceptional construction. You will not be disappointed by its quality waffle cone maker! Every hour the maker can make up to 20 waffles (7-inch). It is perfect for restaurant needs.
Key Features:
High-quality housing
Single and dual-grid
Serves crisp, golden brown waffles with convenience and ease
Other Home & Commercial Waffle Maker We Reviewed
Aliexpress: Bubble, Eggettes, Waffle Maker Machine
Stainless steel housing
US, EU, UK and AU plug
Available in 110v and 220v
The Cuisinart Griddler offers multifunctional an understatement! With five separate cooking choices, it can manage anything from pancakes to sausages to roasted cheese to steaks, hamburgers, and Panini. Twin temperature controls assure everything is well cooked!
Key Features:
Available in 4 size
Multi-purpose use
Aluminum plates with a non-stick coating.
180 degrees unfold
Note: Plates not included
The 1800 watt built-in radiator design ensures the highest heat in the plates for faster cooking and reduced pre-heating time. It creates a burn and a feeling of BBQ quality.
Key Features:
Removable plates, dishwasher safe with Element QI
Cooks meat in minutes
Locking for storage
Uses 120 V. only
Easy cleaning
The waffle maker gives five adjustable browning levels, from light to dark, making it easier to adapt to particular choices.
Key Features:
It has a lockdown handle
Red and Green indicator lights
Detachable die-cast plates with non-stick coating
Standard 110V
PFAS, PFOA, PTFE free
Quick cleanup
Prepare your perfect crisp and thick pancake, waffles and thanks to the great convenient Cuisinart Belgian Waffle Maker.
Key Features:
Mix up thick, fluffy waffles and make best pancakes
4 slice Belgian waffle plates & 4 slot pancake plate
Temperature control at six settings
Indicator lights
Audio alarm
Tongs included
3 years limited warranty
Finally, I got to review the Calphalon dark stainless steel waffle maker! Unlike the other review I have written until now, this beauty has been made by Calphalon. Calphalon, just like Waring, seems to have specialized in a high-quality product made by high-quality and endurable materials. The Calphalon features ceramic-coated plates with a non-stick coating.
Key Features:
Digital Timer control with beeper
Waffle size 4*5 inches
2-slice waffle iron serves great.
Easy to store for compact vertical design
Note:
It has no recipe book
Will not work in 220v
Plates are not removable
Key Features:
Waffle maker bakes four slice 1-inch-deep Belgian waffles at a time
6-setting browning control; nonstick baking plates for effortless food release
Chrome-plated handle; stainless-steel top cover with embossed Cuisinart logo
Handy indicator lights; locking
UNO 4 Square Belgian Waffle Maker by VillaWare
This 4 Square Belgian Waffle Maker waffle maker bakes four 4 1/2″ square BELGIAN (1 1/4″ thick) waffles on a 10″ non-stick grid at one time.
Key Features:
4 Slices at a time
Non-stick coating
Auto signals
110V.
WMR-CAR Round Classic Waffle Maker by Cuisinart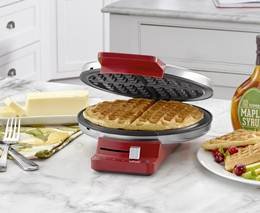 The stainless steel waffle maker of Cuisinart including nonstick plates makes four three-sided slices at a time.
Key Features:
Waffle size is 12 inches
Signal Light
110 V
BWM640XL Smart 4-Slice Waffle Maker by Breville
It has a convenient structure and the process is easy to manage especially as the moat around that captures all the overflows.
Key Features:
Stainless steel construction with die-cast aluminium cooking plates
Four custom beater type settings and 12 colour settings
LCD indicator with reset timer button & another button
Indicator Light
Non-Stick
110 V.
Easy to clean
Comes with a recipe booklet
Audio Signal
Note: Plates are not removable
3-in-1 Waffle Maker G48TD by Black & Decker
Versatile three-in-one appliance:
Waffle maker, grill, griddle.
Grids bake 4 waffles & reverse for top-&-bottom sandwich grilling
Top folds back to create two 8″-square griddles for pancakes, eggs, etc
Variable heat control; nonstick cooking
Belgian Waffle Maker Professional by ALD Kitchen
The Professional Belgian Waffle maker from ALDKitchen bakes yummy waffles every time.
Key Features:
It has an automatic timer, thermostat, and audible alarm
7.25-inch Belgian Waffle in 2 minutes
Energy-efficient and 360 deg rotating mechanism
Teflon coated hot plates
110V.
Note: Manual control
REDMOND 4-Slice Belgian Waffle Maker
It is a fantastic product from an excellent company. The item itself is designed in a creative and well-designed way. The plates are inserted and extracted easily.
Key Features:
4-Piece baking plates with double sided heating
Included waffle plates and cooking cheat sheets
Plate made of heavy metal
120 Volt
2 years guarantee
Oster CKSTWF2000 Belgian Waffle Maker
Key Features:
Belgian non-stick surface with drip rim for easy cleaning
Cool-Touch handles for easy operation
Adjustable heat control for fluffy or crispy waffles
Safety auto shut-off and ignition light and go
Durable chrome finish
8 inches round baking plate
Good –
The machine features a 110 and 220 V option. It features 50 Pieces Poffertjes, Muffins, and cake together so you don't have to rely on one side before flipping the others. It allows for more balance in busy kitchens, and quicker prep times if you are producing in high volumes.
Bad –
Thermal conductivity cooks faster. If you aren't used to thermal heat, it will require a learning curve. There is no lock or safety mechanism built in, and waffles can take up to 5 minutes to prepare, which is a little longer than most traditional commercial grade machines.
There are several commercial and domestic waffle makers to consider investing in. When purchasing one, these are a few options, which feature ease of use/functionality, quick-cook times, and even cooking throughout, for consistent production in a commercial or at-home setup.