Are you one of those people who wish to know which commercial zero turn mower is best for you? There is no doubt that zero turn lawn mowers have revolutionized the lawn sector, making mowing easier and faster. In this post, I have compiled a list of the top rated commercial zero turn mower products currently available online.
The 5 Best Commercial Zero Turn Mowers
*Ratings may change*


When we talk about landscaping, time is always money. The faster you get one task done, the quicker you could get on to the next. For those seasoned professionals, commercial zero turn mowers are the only option. Such turf-hungry equipment is loaded with innovations. These are created with the best-in-class components for the finest cut within the business, allowing you to get the work done for the first time.
Few Things to Consider Before Owning a Lawn Mower
Deck Size Always Matters
One of the vital aspects on a mower is the size of the deck. You see, the wider the deck, the more grass you cut with every pass. That converts to less gas money and time spent every mow.
Stamped vs. Fabricated Deck
You will find two choices for mower decks: stamped and fabricated. A fabricated mower is designed from bulkier plate steel and is welded. On the other hand, stamped mower decks are made of lighter gauge steel that is created by big presses and molds.
Horsepower & Engine Size
Horsepower and engine size are critical when picking your commercial zero turn mower. Take note, high-power engines are not that cheap. Thus, it's vital to consider a few things when choosing what size engine you want.
Mulching and Bagging
Lawn mowing could be a complicated task. What you want is a mower, which can deal with most of the work simultaneously. You need to make sure the one you purchase can bag, and it can get rid of mulch while you cut the lawn. Thus, consider whether the one you purchase comes with a mulch and bug or you will need to purchase them individually.
Speed
You need to consider the size of the lawn. Indeed, if you have a wider deck, you must ensure that the commercial riding lawn mower you purchase has the speed you require to cover the whole lawn. Individuals who have bigger lawns require speed so they could mow their whole lawn on time. With a quick mower, you don't need to mow the lawn for two days. Instead, you'll cover more space in a limited amount of time.
It's important that you consider the coverage of the mower as well. A mower, which covers 42 to 50 inches of space, is better than other which covers roughly 36 to 40 inches. At single go, you will discover that you need to be covered more space. When your lawn is not so large, you don't need to pay for the bigger speeds as well as more extensive coverage. Choosing a 38 to 42 inches mower will work fine.
Today, you will find a plethora of top rated commercial zero turn mower in the market. Nonetheless, which one must you pick from the array of brands or options? If you are still undecided to this question, you're in the perfect place. Consider reading our top rated commercial zero turn mower reviews below.
5 Top Rated Commercial Zero Turn Mower Products
| I | II | III | IV | V |
| --- | --- | --- | --- | --- |
| Troy-Bilt 382cc Neighborhood Riding Lawn Mower | Ariens Zoom 34 Zero Turn Lawn Mower | Husqvarna Z254 Hydrostatic Zero Turn Riding Mower | Husqvarna MZ61 Zero Turn Riding Mower | Craftsman T225 19 HP Briggs & Stratton Gas Powered Lawn Mower |
| Powered by 382cc Auto Choke OHV engine | KOHLER 6000 Series Engine | 26 HP Kohler engine | 24 HP Kawasaki engine | Strong Briggs and Stratton gas engine |
| 30 inches cutting deck featuring five adjustable settings | 34 inches cutting width | Patent-pending park brake system | 61 inches deck | Hydro transmission |
| 18 inches turning radius | 19 HP/600 CC engine power | Reinforced steel stamped cutting deck | Averages of 2 acres per hour | Durable turf saver wheels |
| View Price | View Price | View Price | View Price | View Price |
Here are the Top Rated Commercial Zero Turn Mower Machine
Check Price
The Troy Bilt is considered one of the highly sought-after machines, and several consumers know it all around the world. You see, its customers rate this machine high and false under the affordable price range.
The equipment has unparalleled performance, and it has premium features that not many top rated commercial zero turn mower possess. The mower is relatively small in size, and it's compact in shape. That's only the reason why this mower is bitted fitted for small areas like your small commercial grounds.
The Troy-Bilt 382cc Lawn Mower is small, and it is compared shape makes it the ideal option for commercial use. The machine has various features, making it famous among garden owners. One of the major reasons for its fame is the high powerful 382cc Auto Choke OHV Engine. That makes it adept of accomplishing superior performance and continuous grass cutting ability. What's more, the equipment has six (6) variable speed transmission and offer a high speed of 4.25 miles/hour.
Pros:
Six variable speed transmission accessible
Affordable price
Compact size
Ultra-high powerful engine
Cons:
Not suitable for rough surfaces
Not accessible in different colors
2. Ariens 915223 IKON-X 52″ Zero Turn Mower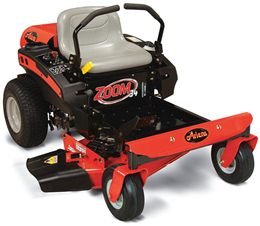 Are you the kind of commercial business owner who needs a reliable and powerful lawn mower? Then the Ariens 915223 IKON-X 52-inch zero turn mower is the ideal option for you. With this machine, you will be able to complete the landscaping requirements of your commercial estate in no time with the remarkable features it offers.
The machine is compact and small that makes it ideal for fitting into smaller spaces into your lawn. Nonetheless, in spite of its compact design, Ariens Zoom 34 still keeps 50 inches cutting deck, which will cut down a substantial amount of your yard with every pass.
Aside from its amazing cutting width, the Ariens Zoom 34 Zero Turn Lawn Mower comes along with a 21 horsepower engine created by Kohler. You see, you will be able to work efficiently and quickly with this excellent motor on board. What's more, the Ariens Zoom can utilize fuel fairly, and it will allow you to mow your lawn in scenarios you could only dream of with your previous riding mower. This item can be the smartest investment you could make as a commercial owner – we highly suggest it.
Pros:
Comfortable seating
Features 50 inches cutting deck
Features a 21 horsepower engine built by Kohler
Cons:
The cutting deck is comparatively small in size
3. Husqvarna Z254 Hydrostatic Zero Turn Riding Mower
The very first thing you need to note about this top rated commercial zero turn mower is that it offers zero turn radius feature. But what does it mean for you? You see, as soon as you have completed one strip of moving, you could turn on a pin and go right back.
The Husqvarna Z254 is also an excellent machine for cutting around obstacles such as flowerbeds. One of the amazing features of this equipment is its 26 HP engine from Kohler. It is durable and fast as well. It can handle at least 2.8 acres per hour, at a speed of at least 6.5 miles every hour. So, if you are currently searching for a mower to cover a wide area quickly, Husqvarna Z254 is the perfect option for you.
Furthermore, the Husqvarna Z254 is surprisingly quiet, making it a perfect bonus if you are spending years mowing. Many thought has gone into its hydrostatic transmission. In fact, it was built not to employ hydraulic hoses, so there is no problem with leaks. Every drive has its wheel motor and a 10cc pumps fan. You can expect a flawless mowing acceleration as well as bags of torque, which deals simply smoothly with uneven terrain and hills.
Its mower deck is a good 54 inches and could be set at any one of 6 positions. The 3 blades are made of twelve gauges stamped steel, and you will also see a wash-out port to help you with the cleaning. What we love about Husqvarna Z254 is the 4 anti-scalp wheels, made to prevent messing up with your turn on an uneven surface. Husqvarna Z254 is the type of mower you tend to be employed for long hours.
It requires being comfortable – and it is. What's more, the chassis is designed of welded steel, lowering the vibration as you mow. That also helps maintain all 4 wheels on the surface when you are mowing on a bumpy place. The seat is designed ergonomically and 15 inches high to offer efficient lumbar support.
The choke, throttle, and ignition are situated together and simple to reach. You will also find an hour meter, helping you keep track of the time you spent mowing.
Husqvarna Z254 has a plethora of options accessories as well like a hitch, headlights and a mulcher kit.
Pros:
Offers you a wonderful mowing experience even in a rough terrain
The hydrostatic transmission safeguards it from leakage problems
Zero radius turn feature for simple maneuver
Offers a 26 HP Kohler engine
Cons:
Difficult to detach from the crate
Average customer support
4. Husqvarna MZ61 Zero Turn Riding Mower
Another Husqvarna on our list is the Husqvarna MZ61 zero turn riding mower. This product packs an added punch when compared along with the others on our list, but falls a bit short in various categories.
The Husqvarna MZ61 Mower features a large 61 inches mower deck. Nonetheless, it does not have the option of a 50 inches deck, making this equipment a touch behind. It has an engine along with the power to surpass all others. Along with a 24 HP, this mower could manage any land or incline texture.
This top rated commercial zero mower also features a hydrostatic transmission. You need to bear in mind that a hydrostatic transmission denotes that instead of a belt, the liquid is revolving the engine. That's one of the flawless rides given by any transmission. Again, this lawn mower from Husqvarna has a flawless ride, offering you massive comfort while you ride.
When it comes to comfort, the high-back vinyl seat is great. That will cover your entire back, offering you superior support. As far as the warranty goes, the Husqvarna MZ61 mower has a solid three years limited warranty. It's still better than the majority of other commercial lawn mowers. This Husqvarna MZ61 has a similar mower but differs only from the Briggs & Stratton 27 hp engine.
Pros:
Excellent back with armrests support in the seat
Hydrostatic transmission
Offers 3 years limited warranty
Cons:
5. Craftsman T225 19 HP Briggs & Stratton Gas Powered Lawn Mower
Check Price
Finally, if you are searching for something with less more power, then the Craftsman T225 is one of the best options you need to consider. It has been designed with a Briggs and Stratton engine, and it is capable of exerting at least 19 HP. It must be sufficient for those medium to small hills in commercial areas as well as medium lawns.
The 45 inches cutting deck is perfect for mowing your lawn effectively when you do not like to spend lots of time. You see, a hydro transmission has been incorporated, and that will make sure the unit is simpler to operate, and it lowers the maintenance required. What we love about Craftsman T225 is the 20 inches rear wheels for the size as well as the traction they offer on almost any ground.
Given that this is one of the more powerful and more prominent riding top rated commercial zero turn mower, you can expect it to be affordable. Nonetheless, the unit does have some extra accessories to help you collect most of the clippings. Its ergonomic seat makes it very comfortable as well. The unit is ideal for medium-sized commercial lawns.
Pros:
Reasonably priced
Big wheels to clear every terrain
Powerful 19 HP engine
Ergonomic seat design
Cons:
It can't climb huge hills
See also:
FAQs
If you wish to know more details about the best commercial zero turn mowers, check out these FAQs below:
#1. Are zero turn mowers difficult to drive?
Z-turn machines aren't for everybody. Understanding which machines are best rated will save you money and time in the end. It's also vital to know that such machines take less time getting used to. However, we would not say it's difficult to run. As a result, more commercial owners are buying such machines as they've been made more user-friendly and reasonable.
#2. What makes Zero Turn Mower Special?
One of the major benefits of this equipment is their capacity to finish the work in less time. Such machines can cut a straightaway speed, which is normally 2 to 5 mph quicker than other kinds of ride-on. Another is manoeuvrability that is an excellent time-saver as well.
Cutting around flowerbeds, rocks, trees, and other obstacles will be much simpler and hassle-free. If you have many obstacles within your area like the ones we mentioned above, mowing could be somewhat stressing work with a lawn tractor or a walk-behind.
#3. How do you steer the machine without a steering wheel?
Each one of the 2 rear wheels has its wheel motor independently operated. The 2 handles control the rear wheels. The right handle regulates the right rear wheel while the left handle regulates controls the left rear wheel.
Therefore, if you like the right wheel to move, you need to push the right handle away from you, allowing it to go forward. Pulling or pushing on either of the handles will enable you to turn the mower.
#4. How do commercial zero turn mowers stop?
The steering handles regulate both the speed and direction of your zero turn mower. That removes the need for a conventional foot brake that some zero turns still have. If you like to slow down, you need to ease back on the handles. In case you like to stop totally, you can easily bring the handles all the way back to neutral, and the commercial zero turn mower will stop.
If you require more braking power, you will find an emergency or parking brake that is commonly situated to the right of your seat.
Conclusion
All the top rated commercial zero turn mowers above are superior and live up to their reputation. All of them are solid, high-quality machines. Picking the one, which lasts and suits all your requirements is the solution. To sum up, only you know which of the top rated commercial zero turn mowers will suit your needs.
We hope all your questions and concerns were answered while comparing five different models. You see, it is always better to make a smart decision when buying a commercial mower of this caliber. Ultimately, pick the right, and top rated commercial zero turn mower for your budget while also bearing in mind the decision factors we have presented earlier. Happy mowing!