Black garlic is considered as nature's antioxidant. You can put it to almost any dish you can think of: soups, salads, vegetables, rice, and even toasts. It is sweet with a complex umami-rich flavor. You can't even taste the spiciness or bitterness of garlic. Here, I have put together some information on the best black garlic fermenter machines along with the health benefits of black garlic and more.
Black garlic is high in antioxidants. Herbalists around the world know the benefits of black garlic and use it as natural medicine. It is often called fermented garlic but microbial infusion is not part of the process.
Black garlic is made and not nature's creation, but it can't make by a simple small food processor because it needs a long process before achieving its perfect taste. The fermentation process will make the fresh garlic taste similar to that of the syrup.
A lot of people want to create the perfect black garlic and some are available in the supermarket. There are two ways of making black garlic. The first is the traditional way and the other is the use of a black garlic fermentation box or machine.
So here is the traditional way of fermenting black garlic
Making black garlic is easy. So here's how:
You'll need:
1. gallon of the mason jar with metal lid
2. 6-12 pcs. Whole garlic bulbs
3. 4 oz. of the jelly jar where you can keep the garlic from secreting juices
4. A dehydrator
You May Look at This Youtube Video About How to Make Black Garlic at Home
First, put the 4 oz of jelly jar upside down inside the gallon jar. Add garlic bulbs as long as it fits into the jar. Make sure that they are not touching the bottom of the jar because the juice that will be collected will make the garlic soggy. Having soggy garlic can change the taste of the black garlic.
Tighten the 2-piece canning lid and seal the jar. Put it inside the dehydrator. Set it at 140-145 degrees, be sure to set the right temperature because it can affect the garlic later on.
Leave the dehydrator for 30-40 days. Check the garlic if it turns black and it won't taste like garlic. If you can taste the garlic flavor, leave it longer. You can place many jars inside the dehydrator that can fit inside.
After 40 days, you can use the black garlic machine to maintain a temperature of 140 degrees. Once it is incubated, you can remove the lid and pour the black liquid from the bottom and see if the garlic is black enough to remove.
If the clove is too soft, return the bulb inside the jar and leave it in the dehydrator without the lid. Make sure to check the cloves periodically to avoid hardening of the cloves.
Use of Black Garlic fermentation machine
Another way is to use a black garlic fermenter machine which is the latest innovation to reduce active effort.
Are you pondering about saving your cost?
Still, could not you decide that you should buy a black garlic machine to ferment the garlic or fermented black garlic from the shop always to use to save costs?
It is a common question that we may have. We are showing you the result so that you can decide yourself easily. You will see today that the price of whole black garlic of 250g is between $15 and $20. In this way, the value of black garlic looks very high. On the other hand, with the only one-time price of $80 – $150, you have a great machine that can create black garlic anytime and anywhere.
How to pick the best black garlic fermenter?
You already knew that the demand for black garlic is increasing. So you know very well whether you will spend a lot of money or not on the fermenter.
Cost? According to our research, a black garlic machine can cost you $80 to a maximum of $150.
Design? There are many designs available in the market, even similar to the rice cooker and easy to operate with a single button. Some of them have a unique door buckle design for the ss cage to restrict the fall of the garlic and the automatic drying function.
Material? Of course, you must worry about the material of the machine, whether healthy and durable. The SS materials are durable and have excellent heat resistance.
Capacity? The capacity of the machine varies from one machine to another like a 5L machine – it can ferment approximately 1.5-2 kg of garlic once. And 6L machine – it can ferment about 3-4 kg of garlic once. Example: The MLGB Black Garlic Fermenter has the capacity: 5L, 2.2 pounds of garlic.
Machine Features? The 5L size machine has a nominal input power of 90 W, operating temperature range between 0 and 45 degrees C, humidity range ≤90% and an operating voltage AC110-120V 60HZ. This capacity of approximately 90W of power level is very popular and is available mostly.
If an abnormal encounter occurs, plug off, or power failure occurs during the fermentation process, the machine will stop working. After plug-in or power recovery, the machine continues to work automatically. You should keep the lid closed for the best result of the fermentation.
Aging Temperature Guide for Black Garlic
The aging time depends on the temperature as the aging period of garlic is longer at lower temperatures. At a temperature of 70°C, the aging process is faster than 60°C. The better black garlic comes with a homogeneous color in the 70°C and 80°C range, by sensory evaluation. If it is produced faster like 90°C, it produces slightly bitter and sour tastes.
Even though some like 80°C and 90°C because of the low sugar content. 60°C is also not an ideal temperature for the aging process because the color may not be completely brown or black. At 60°C or <60°C, the process may take a longer time.
Here are the 5 best black garlic fermenter machines available online
Black garlic can also be made using a fermenter machine. Fermented garlic is the final result that comes from fresh garlic. It might be easier but the machine we use specifically for the black garlic fermenter is not just available in the hardware store. It is usually available online.
Best 6L Black Garlic Fermenter Under $120: NEX 6L Full Automatic Garlics Maker Intelligent Fermenter
Best Black Garlic Fermenter Under $150: MLGB 6L Black Garlic Fermenter Garlic DIY Cooker
Best Multi-functional Fermenter Under $120: INTSUPERMAI 5L Multi-functional Pot Garlic Fermenter
Best Budget Black Garlic Machine Under $110: INTBUYING 5L Black Garlic Fermenter
Easy to Use Fermenter but bit Pricey Over $200: MOOACE 5L Automatic Black Garlic Fermenter
Before using, let's check out the features of the top-rated black garlic fermenter machines currently available online and what reviewers think.
#1. Best 6L Black Garlic Fermenter – NEX 6L Black Garlic Fermenter Machine (Price reduced)
This is a fully automated intelligent garlic fermenter for fresh and sweet black garlic. The capacity is satisfactory because this 6.0 Liter pot will ferment about 1.5 to 2 kg garlic together. You just need to add the timer as this machine takes 9-15 days and you are requested to avoid opening the fermenter during the process. It is very safe and convenient for home use.
The preparation process is very simple, such as placing the fresh garlic on the tray and then placing the tray in the inner pot for fermentation. You are finished to wait by the plugin and start the power button. Enjoy the tasty black garlic after the estimated time.
#2. Best Black Garlic Fermenter – MLGB 6L Automatic Black Garlic Fermenter & Multi DIY Cooker
This black garlic fermenter adds a unique drying function for heavy fresh garlic and large garlic; the more moist and fermented black garlic can be dried to improve the effect of fermentation. It is one of the intelligent machines made for many batches you want.
Key Features:
Also available in 5L option
It has a 6L capacity and can use single clove garlic/ multiple cloves (2.2 pounds)
Takes 7-12 days mostly but normally it takes 7 days
SS cage with "door"
All – Around Heating scattered style
Easy to use
#3. Best Multi-functional Fermenter – INTSUPERMAI 5L Auto Multi-functional Black Garlic Fermenter Pot
It is a high-quality 5 Litre high-end black garlic fermenter with food-grade aluminum inner pot and digital countdown control. It is equipped with an intelligent hot air convection system and a 360-degree humidity circle to ensure great black garlic.
Key Features:
Also available in 6L option
Automatic adjustment of temperature (20-90℃), humidity, and pressure
Easy to operate & convenient to use
#4. Best Budget Black Garlic Machine – INTBUYING 5L Black Garlic Fermenter Machine
This machine is a high-end professional 5L black garlic fermenter with a food-grade non-stick pot and a grid structure. It has smart, hot air convection and moisture circle operation to assure the complete production of black garlic.
Key Features:
Also available in 6L option
High in Quality
Fermentation time selection- 7-12 days
Smart hot air convection
convenient operation
Easy to clean
#5. Easy to Use Fermenter but bit Pricey – MOOACE 5L Automatic Black Garlic Fermenter Gold
The one-touch program of this garlic fermenter has a temperature of 0-45 temperature for an automatic fermentation count system. The black garlic can taste sweet and sour with no bitter or garlic taste and avoid garlic smell.
This intelligent fermentation machine has an aluminum inner cooking pot with a 5L capacity and digital program control.
Key Features:
Takes 12-15 days or 288-360 hours for multi cloves and single cloves
It can ferment 2 pounds of black garlic each time
3 layer tray
These fermenters are not currently available online
● This fermenter is easy to operate that can meet the demands of the family's one-touch operation. It has an intelligent humidity and heating system and has a whole proofer temperature and humidity is even inside.
● This fermenter can make you choose from different mode: Single glove black garlic and multiple glove garlic. Comparing with buying black garlic directly from the supermarket, making black garlic with this one makes it fast, healthier with no preservatives needed. This machine is very convenient to use, just put the fresh garlic and hit the power button for the next 12 days to wait for the garlic to be fermented.
● This machine is very durable for regular use and can last a long time with excellent care. The fermentation process is very easy and you are able to do batches of 6-day, 8-day, 10-day, and 12-day.
Now that we have a list of the best black garlic fermenter machines and here are the steps in making black garlic using a fermenter machine.
Choose What Kind of Garlic to Use
It can be red, white or other kinds as long as the head of the garlic is round. The cloves should not be rotten and the entire head of the garlic is still intact. Wash and clean garlic with fresh clean water. After washing, store the washed garlic in a cool dry place for 6 hours or more until the garlic is dry.
REMEMBER: The garlic should be clean and dry before the fermentation process, if not repeated the process.
If you are going to use a fermenting box, set the temperature to 122-140 degrees Fahrenheit then set the humidity for 60-80 % for 10 hrs. After 10 hrs. set the humidity to 90% for another 30 hrs. After 30 hrs, set the humidity of the fermented box to 180 Fahrenheit to a humidity of 90% for 200 hrs. by that, black garlic is complete.
You can cook black garlic in many ways. You can use food processors for making black garlic. But before that, let's make a review of small best food processors:
1. Cuisinart Elite Collection 4-Cup Chopper/Grinder
● This food processor has a sharp blade with a great cover. With this, even the crispy cut vegetable can turn into parsley cuts. This grinder can be used for dicing, mincing, grating, and chopping.
2. Black+Decker Glass Bowl Chopper
● The blade of this processor is higher and has a sweeping machine at the bottom to overcome the shortcoming. It has a weaker motor than the others and it does not have a feeding tube
3. Kitchenaid 3.5 Cup Food Chopper
● This chopper has a fast motor which can over process the food. It can grate a parmesan fairly and because of its serrated blade, sometimes it can't be chopped cleanly.
4. Hamilton Beach Stack & Press 3 Cup Glass Bowl Chopper
● In order to turn it on, you need to press down the lid, so we need to plug it to turn it off. We also need to scrape down the remaining food manually.
● This food processor slash smoothie maker has a powerful motor and was hard to control and spray food to the sides.
The Aicok food processor is designed to make more relaxing work in the kitchen from cutting, grating, slicing and mixing to kneading.
Key Features:
Four suckers on the back, durable
Hold 12 cups and 1.8L Capacity
Off, Low Speed, High Speed, Pulse Button button operation
Safety lock system
Two years warranty support
Note: You can make dough with this quite well.
The Ninja Mega kitchen system delivers trained performance and power in XL 72 oz. Launcher, 8-cup XL processor bowl, and Nutri Ninja mugs! The Mega Kitchen system is excellent for the frozen mix, food processing and extraction of nutrients and vitamins.
Key Features:
8-Cup food processor bowl
Two 16 oz. Nutri Ninja cups
Speedy processor
Note: It grinds meat, coffee bean, oat flour, chopped veggies, cookie dough, bread dough, etc almost everything.
So, there you have it. These food processors can help you cook your black garlic easily.
Uses of Black Garlic

There are many ways to use black garlic and the most popular way to eat black garlic is simply as a snack and there are also much more inventive ways to put it to good use. Here we've discussed some of the most common uses of black garlic.
Take directly as a pill after peeling the aged black garlic cloves. If you don't eat black garlic, you are missing a boost of essential immunity, and one that's also very tasty.
Black garlic juice or drink is another way to use it. You can take some black garlic cloves and water to blend it using a blender. Due to its garlicky flavour, it is not very tasty to drink.
Use garlic cloves as roasted garlic. Make a paste of cloves after pureeing with oil to smear on chicken or fish before roasting.
Use the black garlic powder in your homemade sausage recipe. The antioxidant energy of fermented black garlic powder is greatly increased when compared to its component material, raw garlic.
You can also use black garlic as the main ingredient. There are lots of recipes where you can use black garlic. Use it into soup, salad, stir fry, noodles and many more recipes.
How to make black garlic at home
You need 1 rice cooker and garlic
Do not open the garlic cloves
Just toss it in the cooker
Do not add water or anything more in it
Once you have kept all the garlic inside the rice cooker, put the lid and switch on the WARM button on the rice cooker.
You do not have to cook it.
Just keep it warm for the fermentation to take place. Keep it in a corner of your house and do not look at it for 3 weeks. After their incubation period, take out the garlic and remove all the cloves from it. Dry it in the sun and store in an airtight container or use it directly in your recipes.
Allicin is a powerful antifungal and antibiotic compound found in garlic. It is also present in raw garlic but the amount of this compound almost doubles in black garlic and the effects are even better. It is effective against cold and flu. Try including black garlic in your salads, curries, etc.
Black Garlic Health Benefits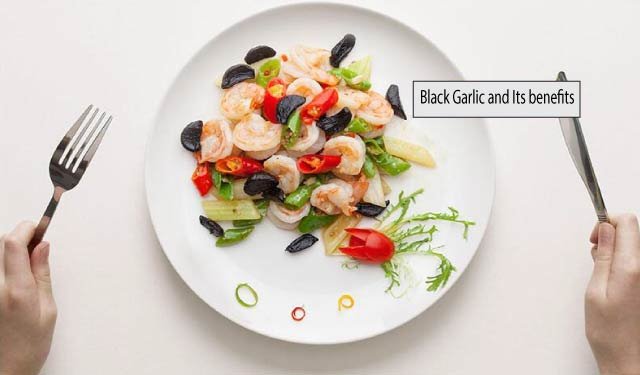 Black Garlic is a good source of Vitamin C, Vitamin B 6 and manganese. This helps in boosting the immune system. Apart from boosting the immune system, it also helps with mineral absorption.
Black Garlic will have to eliminate fatigue, improve physical strength, resolve constipation, protect the liver, improve prostate activity, promote sleep and other functions.
We all know how beneficial fermented foods are for our tummy. Black garlic is rich in enzymes and probiotic organisms that keep our intestines healthy and metabolism in top condition. It stimulates the catarrhal membranes of the stomach to generate gastric juices that help digestion.
Fresh and black garlic contains high levels of antioxidants. These compounds prevent free radical damage and slow down the aging process. Compared to garlic, black garlic contains twice the amount of antioxidants. It's so high in antioxidants, it's an effective treatment for chronic diseases including cardiovascular, digestive, and respiratory diseases. It also protects from circulatory disorders, rheumatoid, arthritis, and Alzheimer's disease.
Black garlic is rich in antioxidants that kill free radicals in the body. It also helps eliminate heavy metals from the body and detox the liver. Also, the antioxidant properties strengthen the body's defense mechanism and fight infections.
If you have been taking garlic capsules because you cannot stand fresh garlic's pungent taste, you'll love black garlic.
Unlike fresh garlic, black garlic tastes like dried fruit. It has a sweet, smoky taste. It definitely tastes better than fresh garlic. We all know how beneficial fermented foods are for our tummy. Black garlic is rich in enzymes and probiotic organisms that keep our intestines healthy and metabolism in top condition.
Also, eating fresh cloves of garlic causes different flavors. Not a problem with black garlic. You can consume more black garlic and not worry about its olfactory effects.
Read also:
It is a very smart electric pressure cooker with a convenient and dependable design. How did you survive without this previously? You can use this appliance for everything up to 4 or 5 servings.
Key Features:
Stainless steel inner pot
Adjustable Temperature Settings
110V.
Perfect for fermentation
TopPick: 20 Cup Cooked Digital Slow Rice Cooker by Aroma Housewares
This cooker has a capacity of 4 to 20 cups and a specialized function for white and brown rice.
Key Features
Multifunctional use and Big Capacity
Built-in steamer function
BPA & PFOA free
The inner pot and all accessories are removable
Easy to clean
Black Garlic Pills and Powder
Black Garlic pills are serving for high blood pressure and cholesterol – less odor – strong antioxidant. Below we have discussed some of the pills you may choose:
Black Garlic Supplement Pills for Men & Women by PureHealthland
60 tablets
Equivalent to 2000mg fresh Garlic
Suitable for vegetarians and vegans
Aged Black Garlic Capsules by Think Remedy
60 capsules
Non-GMO / Gluten-free / Vegan
Processed in WI
500 mg VCapsules, 50 Count by Solaray
Less potent than raw garlic
Contains antioxidants
Herbal Supplement
Black Garlic Powder
Black garlic powder is made by black garlic grinding. Black garlic powder also called fermented black garlic powder, aged garlic powder. Presently, on the market there are two types of black garlic powder, one is peeled black garlic powder, another is whole black garlic powder which means making powder from black garlic with garlic skin.
Bulksupplements – Black Garlic Extract Powder
Clean & pure
Lab-tested for quality and purity
Natural antioxidant & 100% pure extract
Black Garlic Powder Seasoning, 3.12 oz by McCormick
90-day aging process
A sweet and savoury blend of salt
88g
Black Garlic Powder – 1 oz. by SpiceJungle
Gluten-Free, Kosher Parve, Non-GMO
100% Satisfaction Guaranteed
FAQs
#1. What should I do if black garlic is hard, dried, burnt and also tastes bitter?
Well, this is a common problem and it could happen to everyone due to the machine's poorly written instructions. Let's say you are using Nex/MLGB/NPET/INTBUYING/Homend or other fermenters and the operating option is slightly different from one to the other. Some machines have standard 7 days option for slightly sour and sweet tastes and 7-12 days with auto-dry.
So the question is which machine and settings are you using. I'd recommend you to read the instructions from Chinese carefully. You can use alternative settings if it is dried, burnt, or has a bitter taste. For example, you can only try it for 7 or 8 days instead of 7-12 days circles, otherwise, try it for 7-12 days if you have already used it for 7 days. Some machines even have a 10-15 day cycle for their fermentation process.
For a burnt and bitter taste – avoid opening the lid for 1 to 5 days during the fermentation time. You can try tasting on the day of 6 and if it feels good (no burnt taste) you can stop the machine and avoid drying.
#2. How to Clean the Condensation Collector after the Black Garlic is done?
The condensation collector cup collects excess moisture from the garlic during fermentation to ensure the proper moisture level of your black garlic. The cup does not pull apart from top to bottom, but from the sides. Then empty the cup after each operation and clean it with water as it is easy to clean.
#3. Can I eat black garlic raw?
Yes, you can eat it yourself. It does not stimulate the stomach like a clove of raw garlic does. One or two cloves is the recommended amount of consumption per day.
#4. Is black garlic expensive?
Black garlic is not more expensive because you can make it yourself at home.
#5. Is it safe to eat black garlic?
Black garlic is believed to be safe if it is consumed in amounts generally found in food, but it can be dangerous if you use in medicinal quantities.
#6. How much garlic should I eat daily?
The doses generally recommended in the literature book for adults are 4 g (1 to 2 cloves) of raw garlic per day, one tablet of dry garlic powder 300 mg (standardized to 1.3 percent allicin or 0.6 percent of allicin performance) two to three times per day. Or 7.2 g of aged garlic extract per day.
#7. How long will black garlic keep?
It can be left for up to 40 days if you want a more intense and smoky flavor. When the garlic is ready to be removed, place it in a dry place at your room warmth and let it reach for another 10 – 14 days before using it. Place the black garlic in an airtight storage container and store it in the fridge.
#8. Can I freeze the black garlic?
Yes, of course. You can keep it for 30-40 days without losing flavor.
#9. Is fermented black garlic kiss-proof?
Due to the less allicin, it has a softer taste, is easier to digest, and there is no pungent smell in the mount, which is what makes black garlic 100% kiss-proof.